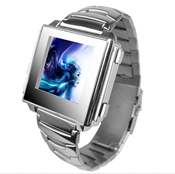 I'm always interested in the weird and wacky when it comes to technology and gadgets. Things like fridges with the internet, and RFID car security, and my latest find is an MP4 watch. Yes that's right a wrist watch that plays music and videos, not to mention displays photos, text files and even has a few games.
With a beautiful stainless steel strap, it looks quite snazzy, and sounds impressive too. It has a multi-purpose 2.5mm jack that fits the headphones( supplied, with a 2.5-3.5mm adapter for those who are that way inclined) the usb cord and the charger. with a 1.5inch square screen, watching videos is interesting to say the least, since the aspect ratio is kind of off, but it still works, and with a bit of tweaking of the supplied mtv format converter (never heard of that format before) I'm sure i could get it to fit all in, maybe with some stretching or perhaps black bars. With 4gb internal storage, it's got plenty of room to hold a few movies, a couple of albums of music, and then a few hundred odd photos, and with it's ability to navigate through folders, it's a breeze to keep it all organised.
Probably the most useful feature is that yes, it does tell the time. with the press of a button, hey presto, we can now see the time on a digital clock, including the date and day. It's taking a bit to get used to the four button control system, basically play/enter, back, next/vol+ and prev/vol- buttons that do different stuff in each menu, and depending on whether you press and hold or just press them. It even came fully loaded with some interesting Japanese pop music, pictures of someone's little doggy, and more Japanese music videos. The games it came with were Tetris, Snake, and some others that I'm not sure of what they are supposed to be, and they all make use of the four buttons, in some nonsensical fashion making it a bit challenging to play them, as if it wasn't already hard enough with a 1.5inch screen anyway.
Another interesting feature I just love, is the random images when you turn in on or off. When the thing turns on it shows pictures of various buildings and birds, while the turning off images are all of fruit and vegetables with the words 'bye-bye!' printed on top. I don't know who's idea it was but i'm sure it was the same one that decided to put Japanese pop on there and dog pictures.
All in all, a very neat novelty gadget, and even if I never use it as an mp4 player, it's a great conversation starter, and a must have gadget for the nerd in anyone. Who else can sit and watch The Simpsons on their wrist watch or listen to the theme of transformers through headphones plugged into their watch? Don't you just love it?
Unfortunately I can't give you anywhere to buy them from if you wanted one, but I found mine on TradeMe, our local auction site in New Zealand. I have really struggled to find a retailer that sells this type of thing locally, so your pretty much on your own, but may have more luck internationally then I have had down here at the bottom of the world.